For centuries, Pubs were a place of merriment and social gatherings, they featured fresh products from local butcher shops and bakeries, and today we consider them the finest in the world. We proudly carry on that tradition.
Pubs can be traced back to Roman taverns, through the Anglo-Saxon alehouse to the development of the tied house system in the 19th century. In 1393, King Richard II of England introduced legislation that pubs had to display a sign outdoors to make them easily visible for passing ale tasters, who would assess the quality of ale sold.
Most pubs focus on offering beers, ales and similar drinks. As well, pubs often sell wines, spirits, and soft drinks, meals and snacks. The owner, tenant or manager (licensee) is known as the pub landlord or publican. Referred to as their "local" by regulars, pubs are typically chosen for their proximity to home or work, the availability of a particular beer or ale or a good selection, good food, a social atmosphere, the presence of friends and acquaintances, and the availability of recreational activities.
At Ashley, we make beautiful home furnishings affordable. Since 1996, we have become the No. 1 selling furniture brand in the world and the No. 1 retailer of furniture and bedding in the United States. Our stores are located throughout the United States, Canada, Mexico, and worldwide, and we are expanding domestically and abroad every day. There are several factors that have contributed to our success.
First, we deliver quality and value every day. Our stores sell Ashley furniture from Ashley Furniture Industries LLC, the largest furniture manufacturer in the world and the #1 selling brand in North America. The Ashley Furniture team includes a full-time design group dedicated to creating furniture styles that will complement any decorating style. Ashley Furniture production teams then carefully build each piece, ensuring quality construction and workmanship. The furniture is then carefully shipped to each Ashley retail location using our own transportation fleet. Because the Ashley team controls all processes from design to delivery, we can reduce our costs and pass these savings on to our customers as exclusive Ashley pricing.
Additionally, many of our stores actively participate in charitable events that promote the continued growth, development and enrichment of their communities.
Most significantly, we are committed to you, our customer, and want to ensure you have an excellent experience each time you visit one of our stores or www.ashleyfurniture.com.
Soldier Walk Memorial Park
America's Premier Veterans Memorial Park
Just 5 minutes from The Ashley Pub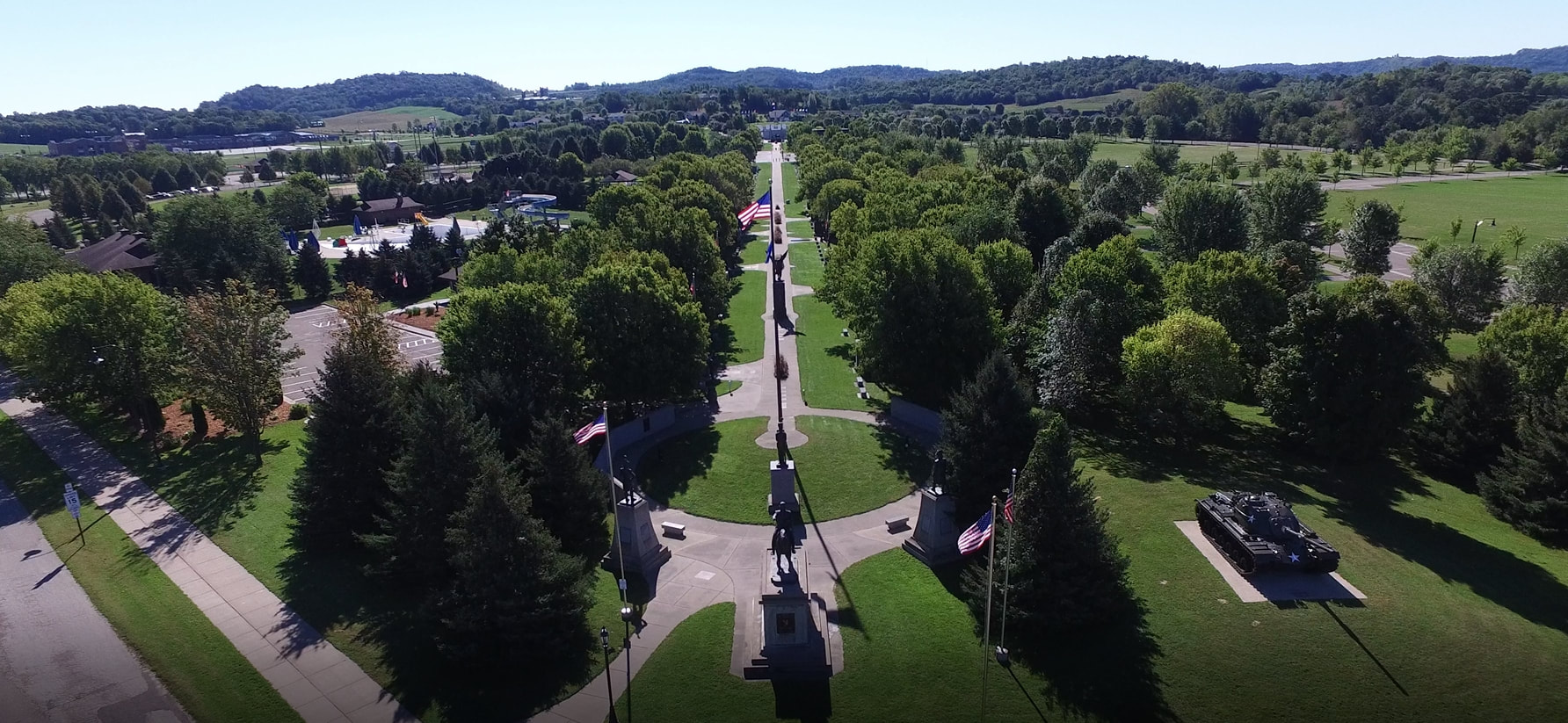 No visit to Wisconsin would be complete without a tour of the beautiful 54 acre Memorial Park and its unique tribute to veterans of all wars and conflicts located just 40 minutes North of LaCrosse, Wisconsin, in Arcadia, Wisconsin. It is the largest Memorial Park in the U.S., outside of Washington D.C.
On this page below, you can take a "Drone's eye view" of the park and listen to the narration of what this park is all about.
Stroll along the Avenue of Heroes, which is handicap accessible, to witness exceptional memorial statues of the fighting men and women who paid the supreme sacrifice for the freedom we enjoy today. The statue figures were designed by Ron Wanek, CEO of Ashley Furniture Industries LLC, who is also the park's lead benefactor.
The Avenue of Heroes Walk is laid out in meters, with each meter representing one year. The Walkway covers 500 years from the establishment of Arcadia in 1848 until 2348. There are Memorial plaques noting events in the history of Arcadia.
Ashley Furniture Industries LLC and the Wanek family have provided thousands of hours of in kind services and millions of dollars toward its continued development.
visit soldier's walk website